How to Check-In online
before your scheduled telemedicine appointment
step 1
Click the link to get started
Click "Start a telemedicine call with Dr. Nullman" below, 15-30 minutes prior your scheduled appointment to enter your virtual appointment.
step 2
Enable your camera
Click

Enable camera

to share camera and microphone with doxy.me
​​
step 3
Select who you are visiting
Click

the arrow on the right and select who you are scheduled to see.
Enter your name to let Dr. Nullman know you are there and click

check in.
Telemedicine Q & A
Telemedicine
What is Telemedicine?
---
Telemedicine is an online appointment by way of a two-way, encrypted, real-time interaction between patient and a healthcare provider. This service is similar to a FaceTime/Skype application and requires a strong Internet connection. The appointment is supported by the use of a computer or any mobile device with a webcam, microphone and secure Internet connection. Telemedicine allows you to meet with your healthcare provider as if you had driven to our office. If your condition requires a hands-on examination, we will require an in-office visit.
---
Are Telemedicine appointments covered by insurance?
---
Most insurance companies typically cover Telemedicine appointments. Patients will be charged the same co-pay and/or deductible as an in-person visit. Please call 305.534.4404 to schedule telemedicine appointment.
---
What is doxy.me?
---
Doxy.me is the third party online platform we are using to conduct our telemedicine appointment.
---
is my virtual visit secure?
---
Yes. Secure data transmission and patient privacy is a top priority. All data is encrypted, your sessions are anonymous, and none of your information is stored. We use a secure platform called Doxy.me that adheres to HIPAA, PIPEDA, and GDPR data privacy requirements. However, it is very important that you complete your visits in a private location to ensure that your privacy and confidentiality is maintained. As always, you must not share your AthenaHealth Patient Portal login credentials In order to maintain your privacy.
---
Can I speak with someone directly who can guide me through the technical setup process?
---
We are here to help. If you have questions about virtual visit technology or issues logging in to AthenaHealth portal, please call Dr Nullman at 305.534.4404
---
My microphone is not working
---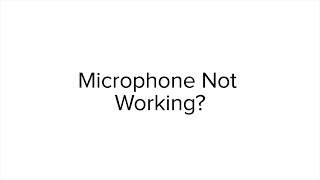 ---
---
How to have a successful first visit
What to Wear
---
Your provider may need to conduct a virtual physical exam, so we recommend wearing loose-fitting clothes that allow your provider to clearly see the area of concern (e.g., shorts for an appointment about your knee).
---
Start Early
---
If this is your first time doing a virtual visit with us, start at least 45 minutes earlier than your scheduled appointment so you have enough time to download any necessary applications and to complete your pre-visit forms.
---
What you will need for your Telemedicine Appointment
---
Please have your driver's license, insurance and credit card available during your telemedicine appointment.
---
Where to set up
---
Consider a location that is private, quiet, and allows you to move around easily.
---
Recommended devices
---
We recommend using a laptop, but you can also use a smartphone or tablet. Ensure that your device has a working camera and microphone and that you have good WiFi. If you have a friend or family member who is more comfortable with technology, consider asking them to help you prepare for your visit.
---
---
Checking in
How do I check in?
---
https://help.doxy.me/en/articles/3751218-how-to-check-in-as-a-patient
---
---